Summary
Story
Veteran Martin Pfotenhauer served in in the 8063 M A S H (Mobile Army Surgery Hospital) unit during the Korean War and briefly discusses his story. Interview courtesy of the Witness to War Project.
The Mobile Army Surgical Hospital, or MASH, concept was first deployed by the U.S. Army during World War II. The goal was to move surgical care closer to wounded soldiers than the fixed-in-place field hospitals then in existence. These MASH units were based on a concept dating back to the Napoleonic wars, when French doctors struggled to save the lives of soldiers wasted by cannons, muskets, buckshot, and shrapnel. Some were mortally wounded, others just needed to be patched up and sent back into the fray. In the midst of battle, these doctors were forced to develop a system of setting priorities in their gory duties. They called it triage, from the French word trier, which means to sort out.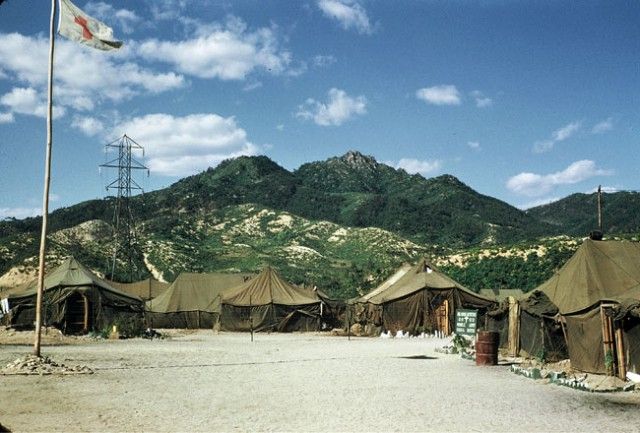 The U.S. MASH units of the Korean War were located close enough to the battlefront that wounded soldiers might be more quickly treated and stabilized, but were distant enough so that the surgeons, nurses, and other medical personnel would not be exposed to direct combat. The people in MASH units worked long hours and endured horrific stresses of warfare, and they moved from location to location on, at a minimum, a monthly basis.
"M*A*S*H," the TV show is based on the fictional 4077th MASH unit, but its sister unit was the real 8063.
To learn more about the Korean War and MASH units check out these picks:
Another interview with a Korean War Veteran and POW is Colonel Bettinger. He flew numerous fighter missions during the Korean War, where he flew with the world famous 4th Fighter Wing, out of Seoul, Korea. Click HERE to see his story.
Other true Veteran stories can be found on our Stories page
The Frontlines uses referral links cover the web hosting, research and gathering of stories to preserve military history and humor. The items linked to are my personal favorites of stuff or things I have read over the years. Thank you for your support!